Alessandro Sarracino's homepage
CNR-ISC and Dipartimento di Fisica, Universita' Sapienza, Roma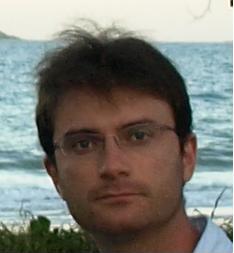 Research Interests
Out-of-equilibrium statistical mechanics
: breakdown of time-reversibility and detailed balance in Markov processes; entropy production; generalized fluctuation-dissiapation relations; ratchet effect; applications to Ising systems, spin glasses and granular systems.
Fluctuation-dissipation relations out of equilibrium
: field-free algorithms for the measurement of the response function; second order FDR; growing length-scales in disordered systems.
Non-equilibrium fluctuating hydrodynamics
: dynamics of a tracer particle in a granular bath; theoretical, numerical and experimental study of driven granular fluids.
Anomalous diffusion
: continuous time random walk and LÚvy collision process. *
CURRICULUM VITAE
Publications
G. Gradenigo, A. Puglisi, and A. Sarracino
Entropy production in non-equilibrium fluctuating hydrodynamics
,
J. Chem. Phys. 137, 014509 (2012) G. Gradenigo, A. Sarracino, D. Villamaina, and A. Vulpiani
Einstein relation in superdiffusive systems
,
J. Stat. Mech. L06001 (2012) *
PDF
G. Gradenigo, U. Marini Bettolo Marconi, A. Puglisi, and A. Sarracino,
Nonequilibrium fluctuations in a driven stochastic Lorentz gas
,
Phys. Rev. E 85, 031112 (2012) *
PDF
A. Puglisi, A. Sarracino, G. Gradenigo, and D. Villamaina,
Dynamics of a massive intruder in a homogeneously driven granular fluid
,
Granular Matter (2012) *
PDF
A. Puglisi, A. Gnoli, G. Gradenigo, A. Sarracino, and D. Villamaina,
Structure factors in granular experiments with homogeneous fluidization
,
J. Chem. Phys. 136, 014704 (2012) *
PDF
G. Gradenigo, A. Sarracino, D. Villamaina, and A. Puglisi,
Non-equilibrium length in granular fluids: From experiment to fluctuating hydrodynamics
,
Europhysics Letters 96, 14004 (2011) *
PDF
G. Gradenigo, A. Sarracino, D. Villamaina, and A. Puglisi,
Fluctuating hydrodynamics and correlation lengths in a driven granular fluid
,
J. Stat. Mech. P08017 (2011) *
PDF
M. Falcioni, D. Villamaina, A. Vulpiani, A. Puglisi and A. Sarracino,
Estimate of temperature and its uncertainty in small systems
,
Am. J. Phys. 79, 777 (2011) *
PDF
D. Villamaina, A. Sarracino, G. Gradenigo, A. Puglisi and A. Vulpiani,
On anomalous diffusion and the out of equilibrium response function in one-dimensional models
,
J. Stat. Mech. L01002 (2011) *
PDF
G. Gradenigo, A. Sarracino, D. Villamaina, T. S. Grigera and A. Puglisi,
The ratchet effect in an ageing glass
,
J. Stat. Mech. L12002 (2010) *
PDF
A. Sarracino, D. Villamaina, G. Gradenigo and A. Puglisi,
Irreversible dynamics of a massive intruder in dense granular fluids
,
Europhysics Letters 92, 34001 (2010) *
PDF
E. Lippiello and A. Sarracino,
Identification of the critical temperature from non-equilibrium time-dependent quantities
,
Europhysics Letters 90, 60001 (2010) *
PDF
A. Sarracino, D. Villamaina, G. Costantini and A. Puglisi,
Granular Brownian motion
,
J. Stat. Mech. P04012 (2010) *
PDF
F. Corberi, E. Lippiello, A. Sarracino and M. Zannetti,
Fluctuations of two-time quantities and non-linear response functions
,
J. Stat. Mech. P04003 (2010) *
PDF
F. Corberi, E. Lippiello, A. Sarracino and M. Zannetti,
Fluctuation-dissipation relations and field-free algorithms for the computation of response functions
,
Phys. Rev. E 81, 011124 (2010) *
PDF
E. Lippiello, F. Corberi, A. Sarracino and M. Zannetti,
Nonlinear response and fluctuation dissipation relations
,
Phys. Rev. E 78, 041120 (2008) *
PDF
E. Lippiello, F. Corberi, A. Sarracino and M. Zannetti,
Nonlinear susceptibilities and the measurement of a cooperative length
,
Phys. Rev. B 77, 212201 (2008) *
PDF
Proceedings
G. Gradenigo, A. Puglisi, A. Sarracino, A. Vulpiani and D. Villamaina,
The out of equilibrium response function in sub-diffusive systems
,
Physica Scripta 86, 058516 (2012) M. Pica Ciamarra, A. Sarracino, M. Nicodemi and A. Coniglio,
Species segregation and dynamical instability of horizontally vibrated granular mixtures
,
In Traffic and Granular Flow 2005, A. Schadschneider, T. Pschel, R. Khne, M. Schreckenberg, D. E. Wolf (EDs.) (2007) *
PDF
Contacts
mail: alessandro.sarracino(at)roma1.infn.it Dipartimento di Fisica, edificio Fermi, 2nd floor, room 205 phone: +39 06 4991 3483